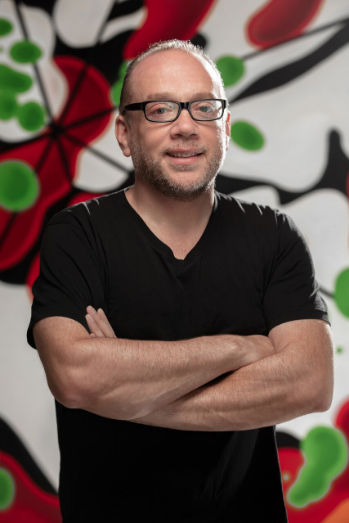 Bruno DiFabio, Culinary Consultant
Thirteen-time medalist (and six-time champion) in the World Pizza Games, Bruno DiFabio has a magnificent obsession…and it's all about "the pie."
In the pursuit of perfecting Pizza Romana (which is made with a very wet dough) and Pizza Napoletana (which is baked in a 900°F oven), and learning basically everything there is to know about pizza, Bruno went on a quest to Italy, to South America, and to California to study with some of the world's best pizza makers. He learned about San Marzano tomatoes, artisanal cheese and flour (the best flour, he says, comes from Manitoba, Canada). And, with his mentor and master pizza maker and instructor Tony Gemignani, Bruno co-founded the International School of Pizza in 2008.
The New York Post has called Bruno "a twirling dervish" for his dance-like moves when stretching pizza dough. But then again, he's had lots of practice, starting from age 12 when he worked with his grandfather Angelo at his restaurant, Tony's Italian Kitchen, in Manhattan. Bruno, whose family roots are in Abruzzo, Italy, went on to work at a Stamford, CT pizza place, which he eventually purchased and turned into Amore Cucina & Bar.
With 12 restaurants around the country, and even a handful in London, this regular on the Food Network still feels there's so much still to learn about his favorite subject.
Tony Sacco, Operating Partner
With over 50 years of pizzeria ownership experience under his belt, Tony Sacco is a pizza expert. From the age of 10 years old, Tony started making pizzas in his aunt's basement, and his first job was in a Detroit pizzeria in 1968. He has since worked in every type of pizzeria: coal oven, carryout & delivery, Detroit and New York style restaurants.
Born and raised in Detroit, Tony loves spending time with his kids and grandchildren.